Press release
Fairer deal for UK hauliers in HGV Road User Levy Act
HGV Road User Levy Act becomes law.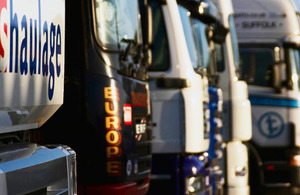 The HGV Road User Levy Act became law today (28 February 2013) paving the way for a fairer deal for UK hauliers.
Most EU states already charge lorries for using their roads which means that British vehicles have to pay to drive in Europe, while foreign lorries can drive in the UK without paying for the wear and tear they cause on the roads.
The new charge is supported by UK businesses and will be introduced in April 2014. The levy will be a time-based charge of up to £1,000 a year or £10 a day and will apply to lorries weighing more than 12 tonnes, using UK roads.
By law, the scheme cannot discriminate between UK-registered vehicles and vehicles from elsewhere in the EU so this charge will apply to all lorries but, for the vast majority of UK hauliers, this will not mean an increase in costs as they will be compensated through a reduction in vehicle excise duty.
Roads Minister Stephen Hammond said:
Every year there are around 1.5 million trips to the UK by foreign registered lorries but none of them pays to use our roads, leaving UK businesses and taxpayers to foot the bill. In contrast, when UK hauliers travel abroad then in most cases they have to pay to use the roads.

This new act will help the UK logistics industry remain competitive by making sure that operators from abroad are paying towards the cost of building and maintaining the UK's roads as well as creating a level playing field for domestic operators.
UK hauliers will pay an annual or a 6 monthly charge for each lorry at the same time and in the same transaction as they pay its Vehicle Excise Duty (VED). Foreign hauliers can pay daily, weekly, monthly or annual charges. Non-payment of the charge will be a criminal offence, which could result in a fine of up to £5,000.
Notes to editors
The HGV levy would apply to heavy goods vehicles (HGVs) of 12 tonnes and over. There are 7 proposed main charge bands applying to most lorries. These charge bands align with existing vehicle excise duty bands for these vehicles. Both the charge and vehicle excise duty are intended to reflect the different levels of damage caused to the road by the vehicle. The charges for each band are set out in the table below:
| | | | | | |
| --- | --- | --- | --- | --- | --- |
|   | User charge rate: (foreign vehicles only) | User charge rate: (foreign vehicles only) | User charge rate: (foreign vehicles only) | User charge rate (foreign and UK vehicles) | User charge rate (foreign and UK vehicles) |
| VED band | Daily | Weekly | Monthly | Half Yearly | Yearly |
| A | £1.70 | £4.25 | £8.50 | £51 | £85 |
| B | £2.10 | £5.25 | £10.50 | £63 | £105 |
| C | £4.80 | £12 | £24 | £144 | £240 |
| D | £7 | £17.50 | £35 | £210 | £350 |
| E | £10 | £32 | £64 | £384 | £640 |
| F | £10 | £40.50 | £81 | £486 | £810 |
| G | £10 | £50 | £100 | £600 | £1,000 |
Information on some additional charge rates applying to a few other types of freight-carrying lorries is included in the consultation document.
The charging levels must comply with the Eurovignette Directive (Directive 1999/62/EC as amended by 2006/38/EC and 2011/76/EU) which sets out a framework of rules for tolls and charges, including maximum daily rates for the latter.
Non-payment of the user charge would be a criminal offence, which could result in a fine imposed by the courts of up to £1,000. The user charge would be enforced by DVLA records, ANPR cameras and checks by the Vehicle and Operator Services Agency (VOSA) at the roadside. VOSA would also be able to issue fixed penalties of £200 on the spot to non-compliant drivers (and take financial deposits from drivers based outside the UK).
Most EU states charge lorries for using their roads e.g. a vehicle doing a 2-day return trip from the UK to Belgium, Luxembourg or the Netherlands will pay €16 in user charges.
Roads media enquiries
Media enquiries 020 7944 3021
Out of hours media enquiries 020 7944 4292
Switchboard 0300 330 3000
Published 28 February 2013