News story
Foreign Secretary's message for Eid ul Fitr
Boris Johnson wishes Muslims in the UK and around the world a happy and peaceful Eid.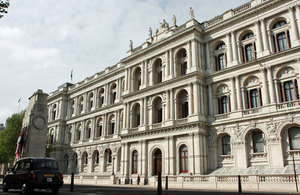 Foreign Secretary, Boris Johnson said:
As Muslims across Britain and around the world gather to celebrate Eid, I want to wish you all Eid Mubarak.

Britain's Muslim community is active across all areas of civic life, making waves in all parts of our society from business to politics, the arts to medicine.

It is this rich diversity and heritage that makes our country great.

As Foreign Secretary I will continue to work towards pathways for peace across the Muslim world.

In particular our focus is for an end to the conflicts in Burma, Syria and Yemen. I'm proud that as a nation the UK has contributed over £3bn to support the humanitarian effort in these crises.

I will continue to lobby on the world stage, bring to bear our world class diplomatic network and our allies and partners, to work towards a meaningful resolution to these conflicts.

I want to see an end to conflict and strife so that all people are free to prosper and fulfil their potential.

Eid Mubarak to all.
Further information
Published 15 June 2018