World news story
Foreign Secretary's letter to Uzbek students
British Foreign Secretary writes to Uzbek students participating in the Model G8 Project.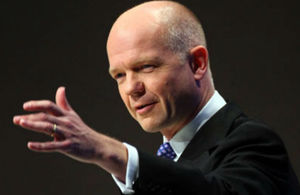 The Foreign Secretary of the United Kingdom, William Hague, has written to the sixteen participants of the Model G8 project, wishing them good luck and thanking them for their participation in the project. The first event of its kind in Uzbekistan, the Model G8 will take place on 27 April at Westminster University in Tashkent. The Model G8 involves students from leading universities in Tashkent and is a simulation of the events of the actual G8 Summit, which this year will be chaired by the UK.
In his letter, William Hague said that he was "delighted to learn of the students' participation in the British Embassy's Model G8 initiative", explaining that he believed that this was an excellent way to develop negotiating and communicating skills, and to find out more about the work of the G8. William Hague wished the participants luck, and thanked in particular the two students representing the UK, who would also have the challenging job of chairing the final summit on 27 April. William Hague finished his letter by setting out his and the British Prime Minister's belief that "in focusing on practical action on trade, tax and transparency, the G8 can support growth and prosperity around the world, by helping open and fair economies and societies to thrive." This, the Foreign Secretary said, was "the spirit of the UK G8 Presidency".
The UK is chairing the G8 in 2013. The G8 is a group of eight major economies that between them make up 50% of global GDP. The British Embassy's Model G8 project is aimed at helping build understanding to engage students in the work of the G8 and its focus on solving global economic challenges. The UK's G8 chairmanship agenda is ambitious, practical and pro-business. It will deal head on with the big issues of the day that affect the stability and growth of the global economy. At the heart of the UK's G8 agenda are three issues – advancing trade, ensuring tax compliance and promoting greater transparency. These are all areas where the G8 can play a distinctive role, using our commitment to open economies, open governments and open societies to support enterprise and deliver economic growth. Trade, tax and transparency are critical issues for global prosperity, for jobs and for sustainable development. The British Prime Minister wants to take every opportunity to discuss the major issues facing the global economy in an effort to reach global consensus and collective determination to address the economic challenges the world faces.
Published 25 April 2013