News story
Foreign Secretary's call with Turkish Foreign Minister
Foreign Secretary William Hague has held a phone call with Turkish Foreign Minister Ahmet Davutoglu.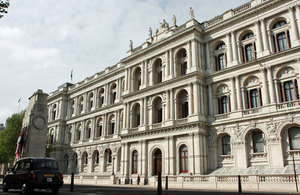 Following the Prime Minister's telephone call with Turkish Prime Minister Erdogan on Monday, the Foreign Secretary spoke to Turkish Foreign Minister Ahmet Davutoglu on 14 June, to congratulate him on his party's success in Sunday's general election, and on his resounding victory in his home province of Konya.
The two Foreign Ministers also discussed Syria and their shared concerns over the deteriorating situation. Mr Davutoglu updated the Foreign Secretary on the worsening refugee situation on the Syria-Turkey border, and the Foreign Secretary welcomed Turkey's humanitarian response. The two Foreign Ministers agreed that the Syrian regime's current actions were unacceptable and that the violence must stop immediately. The Ministers agreed that a united message from the international community was vital in order to change Syria's behaviour towards its own citizens, and agreed to stay in close touch to that end.
Search the news archive
Published 16 June 2011