Foreign Secretary William Hague on the UK's role in Afghanistan
Whilst on his visit to Kabul, the Foreign Secretary spoke to British journalists on the UK's plans for engagement in Afghanistan.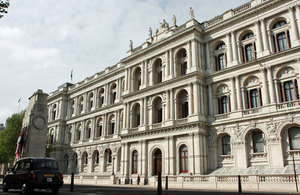 Speaking shortly after President Obama's announcement of the US plans to draw down their troop surge from Afghanistan, William Hague said:
We welcome President Obama's announcement and it is in line with our own thinking. There is clearly progress being made in Afghanistan and I've seen that for myself on this visit.

What [Obama's statement] amounts to is the recovery of the surge of US forces. The Prime Minister announced a few weeks ago that there will be a reduction of 400 over this year in the number of British forces with the base level remaining at 9,500.
The Foreign Secretary addressed the work that has been done by the international effort to enable the Afghans to forces to take the lead for security in a number of areas:
We're building up Afghan national security forces, now nearly 300,000 strong, and increasingly they will be taking over security of more and more areas of Afghanistan.

We will continue to assess the level of British forces required based on the conditions on the ground. But of course leading to a point by 2015 where we will not have combat troops fighting in Afghanistan or in anything like the numbers they are today.
On Radio 4's Today programme, he talked about UK's contribution to the reconciliation process and its importance alongside military efforts:
Contacts do take place with the Taliban. Britain is connected to that, and supportive of that. We have been at the forefront of arguing for reconciliation in Afghanistan.

The efforts to arrive at a political reconciliation in Afghanistan must run alongside military efforts. The military efforts are part of keeping up the pressure for such a reconciliation to take place.

We have done enormous damage to Al-Qaeda. The death of Usama bin Laden is an opportunity for the Taliban to break its links with Al-Qaeda. But they haven't yet done that, and it is important to keep up the military pressure on them.
Prime Minister David Cameron also spoke with President Obama and welcomed his announcement to draw down the US troop surge from Afghanistan. David Cameron said:
"We remain side by side with Afghanistan and our international partners to achieve a military and political solution in Afghanistan that will allow the Afghan people take full responsibility for their own sovereignty and national security."
Published 23 June 2011