Foreign Secretary William Hague hails UK-Israel science links
At high-level dinner, William Hague says 'science is rightly one of the cornerstones of the relationship between Britain and Israel - our countries are scientific superpowers.'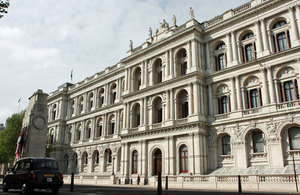 UK Foreign Secretary William Hague hailed UK-Israel science and business ties tonight, saying that "science is rightly one of the cornerstones of the relationship between Britain and Israel - our countries are scientific superpowers. Both are countries that have built up our economies and our identity through being leaders in science and technology."
In his keynote speech to celebrate UK-Israel science ties at the British Ambassador to Israel's Residence in Ramat Gan, the Foreign Secretary said, "it is important for me and the new British Government, that Britain's relationship with Israel be characterised by positives in our relationship. In areas like science and high-tech commerce there is wonderful collaboration going on between our countries, much to the benefit of both Britain and Israel."
The Foreign Secretary, on a two-day visit to Israel and the Palestinian Authority, also praised the Britain Israel Research and Academic Exchange programme (BIRAX), now in its second year. Created by the British Council in Israel in collaboration with Pears Foundation and academic leaders from Britain and Israel, BIRAX brings together Israeli and British scientists through the funding of joint research projects. The scheme is funded by Pears Foundation, UJIA and enjoys continued support from both governments. He also announced the ten joint British-Israeli research projects which tackle global challenges in Energy and the Environment selected to receive this year's BIRAX funding.
In addition, he announced the establishment of a new top level UK-Israel Life Sciences Council, which will take scientific collaboration between the two countries to a new level.
Among the guests at the event were Science Minister Daniel Hershkowitz, Minister Avishai Braverman, MK Einat Wilf, Shraga Brosh, President of the Manufacturers Association of Israel, Prof. Ruth Anon, President of the Israel Academy of Sciences and Humanities, Yossi Vardi, and Poju Zabludowicz.
The Foreign Secretary also thanked the Pears Foundation for sponsoring the evening, along with the Zabludowicz Foundation. He also toured the stands at the event set up by companies exemplifying UK-Israel commercial ties.
Search the news archive
Published 3 November 2010