Foreign Secretary welcomes UN supervision mission in Syria
Foreign Secretary William Hague has welcomed the UN supervision mission in Syria, saying it is a vital step in supporting the fragile ceasefire.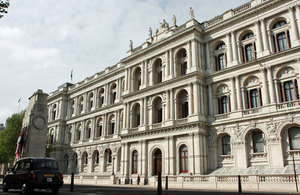 Speaking today following the vote in the UN Security Council, the Foreign Secretary William Hague said:
"I welcome the United Nations Security Council's unanimous endorsement of a rapid deployment monitoring mission for Syria. This mission is a vital step in supporting the fragile ceasefire in Syria. It is essential that it begins its work urgently and without impediment. I urge all parties to maintain the ceasefire to allow the monitoring mission to deploy and complete its task.
"The Syrian government must ensure that the Monitoring team has freedom of movement and access, and it must not obstruct communication between the monitors and headquarters. It is also essential that there are guarantees from the parties on security, without prejudice to the mission's freedom of movement. These conditions are set out in today's UN Security Council Resolution, and we will hold the Syrian regime to it and to Kofi Annan's Six Point Plan.
"I again urge the Syrian regime to comply with Kofi Annan's plan in full. It must stop troop movements towards population centres; end the use of heavy weapons in civilian areas; and withdraw the military to their barracks.
"Failure to do these things will result in further international pressure on the Assad regime and steps to ensure that they are held to account."
Published 14 April 2012