Foreign Secretary welcomes UN statement on Aung San Suu Kyi
Foreign Secretary William Hague welcomes UN statement on detention of Aung San Suu Kyi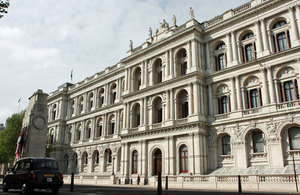 On 16 June, the UN Working Group on Arbitrary Detention publicly pronounced pro-democracy leader Aung San Suu Kyi's continued detention a breach of international human rights law.
Responding to the view of UN experts, the Foreign Secretary said:
"Aung San Suu Kyi is 65 this Saturday, having spent 14 of the last 20 years under house arrest. Her continued detention, and that of more than 2,100 other political prisoners in Burma, contravenes international human rights law and casts a long shadow over planned elections in the country. I urge the military regime to release all political prisoners immediately and unconditionally, and respect the human rights of Burma's people."
Speaking in Geneva, the United Nations Special Rapporteur on the situation of human rights in Myanmar, Tomas Ojea Quintana, said:
"I urge the Government of Myanmar to heed the call of an independent United Nations human rights body to immediately release Daw Aung San Suu Kyi. The United Nations Working Group on Arbitrary Detention recently adopted its sixth 'Opinion' on Daw Aung San Suu Kyi, which has been made public.
As in its previous five 'Opinions', the Working Group has found that the continuous deprivation of Daw Aung San Suu Kyi's liberty is arbitrary, and has requested the Government of Myanmar to implement its previous recommendations and to remedy the situation in order for Myanmar to be in conformity with the norms and principles set forth in the Universal Declaration of Human Rights.
I also call upon the Government of Myanmar to release all prisoners of conscience in order to create the conditions for an inclusive election process and to demonstrate that it intends to take a more serious and sincere approach to its international obligations to uphold human rights."
The Foreign Office is inviting people to post birthday messages for Aung San Suu Kyi on its Facebook wall: www.facebook.com/fcoburma
Published 17 June 2010