Press release
Foreign Secretary welcomes UN Resolution on aid to Syria
William Hague says UN Resolution will help ensure vital humanitarian aid reaches millions of Syrians.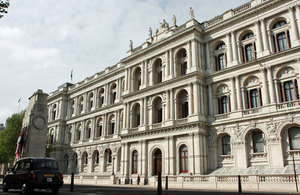 The Foreign Secretary said:
I welcome the unanimous adoption by the UN Security Council of resolution 2139. This is a vital step towards ensuring that humanitarian aid reaches millions of Syrians in desperate need of help, including those who have been denied their basic human right to food and medical aid.

The adoption of this resolution, on the initiative of the UK and our close partners, sends a clear message that the Assad regime cannot be allowed to starve hundreds of thousands of its own people into submission.

Our priority now is the full and immediate implementation of the resolution.

I call on the Assad regime to cease the indiscriminate use of aerial bombardment across Syria, including the barbaric use of barrel bombs, and immediately adhere to the obligations set by the Security Council and allow free and unfettered access for all humanitarian agencies.

We will not hesitate to return to the Security Council if the Assad regime fails to meet the demands in this resolution.

In parallel, the UK will remain at the forefront of the international humanitarian effort. We will intensify our support, with our allies, for the Geneva II process, to bring about a political settlement of the conflict in Syria. The international community should show the same sense of unity we have seen at the Security Council today, to support the Geneva II negotiations.
Further information
Follow the Foreign Secretary on twitter @WilliamJHague
Follow the Foreign Office on twitter @foreignoffice
Follow the Foreign Office on facebook and Google+
Published 22 February 2014