Foreign Secretary welcomes UN inquiry into human rights violations in Libya
Foreign Secretary William Hague has today welcomed the appointment of the UN Human Rights Council Commission to investigate human rights violations in Libya.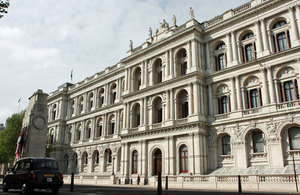 The Foreign Secretary said:
"I have been clear that an internationally led investigation into human rights violations in Libya is vital and I welcome the appointment of the experts who will conduct it. I call upon the Libyan regime to support and facilitate the work of the Commission so it can begin its investigation as soon as possible. We must hold those responsible for causing the suffering and deaths of civilians in Libya to account."
The three human rights experts who will form the Commission of Inquiry are Cherif Bassiouni (Chair), Asma Khader, and Philippe Kirsch. The decision to set up the Commission was made at a Special Session of the Human Rights Council on 25th February and was welcomed by the Foreign Secretary in his speech to the Council on 28th February.
The task of the Commission, as set out in the Resolution approved at the Special Session of the HRC, will be to establish the facts and circumstances of any violations of human rights law and of the crimes perpetrated in Libya and to identify those responsible. They will then make recommendations to hold those individuals to account. The Commission will report to the Council in June.
Published 11 March 2011