News story
Foreign Secretary welcomes UN General Assembly resolution on Syria
Foreign Secretary William Hague: "As long as the conflict in Syria continues the international pressure on the Assad regime will only intensify."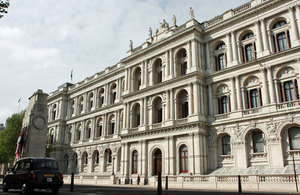 Commenting on the passage of United Nations General Assembly Resolution on Syria, Foreign Secretary William Hague said:
"I welcome today's UN General Assembly resolution on Syria.
"A majority of UN members have reiterated their unequivocal support for political transition in Syria and for the Syrian people. For nearly 17 months the Syrian regime has unsuccessfully tried to crush Syrians' legitimate aspirations. This resolution, led by Saudi Arabia, and supported by the Arab League, sends a clear signal that the world stands together in condemning the Syrian regime's systematic human rights violations and in calling for accountability. The international community has demanded that the Syrian regime takes the first steps to end the ever increasing violence and has called for all parties to implement the United Nations' and Arab League's political transition plan. I congratulate the Arab League on their leadership.
"As long as the conflict in Syria continues the international pressure on the Assad regime will only intensify. As this resolution makes clear there must be a political solution, there must be sustained international pressure on the regime to compel it to act first, and Assad must leave office. We will intensify our efforts over the coming weeks to help end the violence on this basis, and call on all members of the UN Security Council to respond to the call to action contained in this resolution."
Published 3 August 2012