Foreign Secretary welcomes the swearing in of National League for Democracy MPs in Burma
Foreign Secretary welcomes the swearing in of National League for Democracy MPs, including Daw Aung San Suu Kyi, in Burma today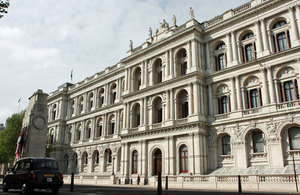 The Foreign Secretary, William Hague, said:
"I welcome the swearing in of National League for Democracy MPs, including Daw Aung San Suu Kyi, at the Burmese Parliament today.
"This is a truly historic event and another positive outcome of the reforms begun by President Thein Sein a year ago. The Prime Minister and myself witnessed the reforms first hand during our recent visits to Burma.
"Today's events are a further step towards a fully representative democracy in Burma. I look forward to the full participation of all elected members, and a spirit of inclusive and constructive engagement by all parties on the path of reform.
"A number of concerns remain, in particular the need to address the abuse of human rights, a significant number of political prisoners and the continuing conflict in Kachin State. I hope these important issues will soon be resolved."
Published 2 May 2012