Foreign Secretary welcomes the release of the Chandlers
Paul and Rachel Chandler were released yesterday following 388 days in captivity after they were kidnapped from their yacht off the coast of Somalia.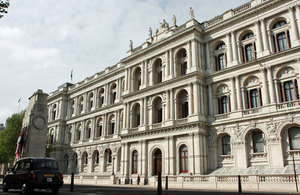 Foreign Secretary William Hague said:
"We are delighted, everyone is delighted. They are now in the care of the British High Commission, and they are in touch with their families. They will be well looked after. They have had a terrible ordeal. The British government will continue to contribute to the anti piracy patrols in the Indian Ocean, to work diplomatically for a more peaceful situation in Somalia."
"Hostage taking is fundamentally wrong, and the Government will never reward hostage taking. People will understand the position of successive British governments that we do not pay ransoms or make significant concessions otherwise there would be a risk of many more hostage takings. We support many things and make contributions towards peace and stability in Somalia."
The Prime Minister David Cameron also welcomed the release. In a statement he said:
"I am grateful to all those who have worked so hard to bring the Chandlers safely out."
This morning, Paul and Rachel Chandler gave the following statement:
"We thank you for all your concern and interest. We have just learned that Paul's father died in July, and we obviously need to come to terms with that.
We will return to the UK very soon. We do not intend to give any press interviews or make any further statements until we have had time to adjust to the situation and we would appreciate it if you would give us and our families some space, and respect our privacy for the moment."
Published 15 November 2010