Foreign Secretary welcomes strong UK-Panama partnership
Foreign Secretary William Hague met President Martinelli of Panama at the Foreign Office on 26 July.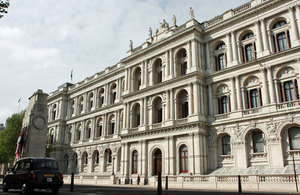 After the meeting the Foreign Secretary said:
"It was a pleasure to welcome President Martinelli to the Foreign and Commonwealth Office during his visit to London, the President's second in less than a year. I am delighted that President Martinelli will be able to attend the Olympics Games Opening Ceremony, particularly given his passion for sport. I wish Panama's athletes the best of luck during the Games.
"The UK and Panama have an increasingly close bond, based on mutual respect and shared values, such as a commitment to free and open trade. The UK is the largest investor in Panama and a number of high-profile companies have operations in Panama City.
"We discussed a number of areas of bilateral cooperation, including security issues. Panama is one of our strongest partners in Latin America on tackling organised crime. We also discussed regional politics and trade issues, as the UK values Panama's views as a trusted partner in Latin America and a growing regional financial and commercial centre. We will continue to work together on a wide variety of issues to the benefit of the peoples of both our countries."
Published 26 July 2012