News story
Foreign Secretary welcomes signing of Gulf Cooperation Council initiative on Yemen
Foreign Secretary welcomes signing of the Gulf Cooperation Council initiative which commits Yemen to a transition of power within 90 days.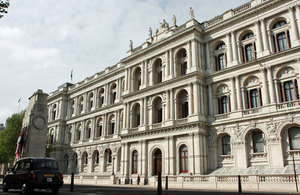 He said:
"We welcome the fact that today President Saleh has signed the GCC initiative committing to the transition of power within 90 days, after which he will stand down.
"It comes after months of deterioration of the situation in Yemen, and will give hope to the Yemeni people that change in their country is possible.
"We now call on all political leaders and forces in Yemen to commit to a peaceful and orderly political transition. Both the supporters of President Saleh and the opposition must seize this opportunity and comply fully with UNSCR 2014. We will review progress with other members of the Security Council in the coming days.
"The Yemeni people have suffered for too long. The UK is committed to helping them tackle the many challenges involved in this transition.
"We commend the Gulf Cooperation Council for their unrelenting efforts to facilitate today's agreement. President Saleh must now act on his commitment and implement the agreement in full."
Published 23 November 2011