Foreign Secretary welcomes reports of the arrest of former Libyan intelligence chief
Foreign Secretary William Hague has called for Abdullah Al-Senussi to face trial and all involved to cooperate fully with the International Criminal Court (ICC).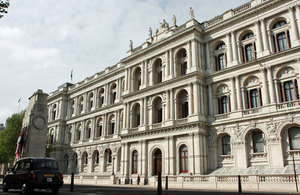 Speaking today, the Foreign Secretary said:
"I welcome reports of the arrest of the former Libyan intelligence chief, Abdullah Al-Senussi, in Mauritania. Like others who have sought to evade justice, he must now be held to account for his actions and face trial on the charges brought against him. I congratulate the Mauritanian authorities for detaining him and encourage all involved to co-operate fully with the ICC under UN Security Council Resolution 1970. The detention of the final Libya ICC indictee now offers the Libyan authorities the opportunity to focus fully on rebuilding their country and continuing the transition to democracy.
"Al-Senussi's arrest is a further reminder that people at all levels should think carefully about the consequences of their actions - whether they are ordering attacks on civilians, carrying out such attacks or otherwise suppressing the wishes of people wanting a better future. The reach of justice is long and there will come a day when they are held to account."
Published 17 March 2012