Press release
Foreign Secretary welcomes removal of Syrian chemicals
Foreign Secretary welcomes removal of declared chemicals from Syria, calls for accountability and full disclosure.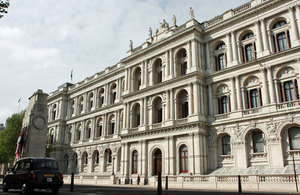 Commenting on the removal of the final consignment of Syria's declared chemical stockpile, Foreign Secretary William Hague said:
On 21 August last year, the Assad regime used chemical weapons to kill over a thousand men, women and children in Ghouta, Syria. Today, the final consignment of Assad's declared chemical stockpile was removed from Syria. This represents a very substantial achievement by the international community.
Nonetheless, we remain deeply concerned about the gaps and discrepancies in Syria's declarations to the OPCW. Until these have been resolved, the international community cannot have confidence that Syria is in compliance with its obligations under the Chemical Weapons Convention and UN Security Council resolution 2118. The regime's history of lies and obstruction make it impossible to take its claims at face value, and we support the OPCW in its efforts to press Syria for full disclosure.
Furthermore, Syrians continue to live in fear, with the OPCW reporting last week that it was likely that toxic chemicals, such as chlorine, had been used in a systematic manner in a number of recent attacks. The Assad regime must be held accountable for the attack at Ghouta and others since. We are funding the documentation of atrocities, looking to expand the EU sanctions regime and working to build support for our long-held view that the situation in Syria should be referred to the International Criminal Court.
The removal and destruction of these deadly chemical agents represents a reduction in Assad's ability to terrorise the Syrian people, and is a major step towards the elimination of chemical weapons worldwide. Only six states have yet to accede to the Chemical Weapons Convention. It is high time for them to do so.
Further information
Follow the Foreign Secretary on Facebook and on Twitter: @WilliamJHague.
Follow the Foreign Office on Twitter.
Follow the Foreign Office on Facebook & Google+.
Published 23 June 2014