Foreign Secretary welcomes re-opening of Libyan Embassy
Representatives of the National Transitional Council are now staffing the Libyan Embassy in London.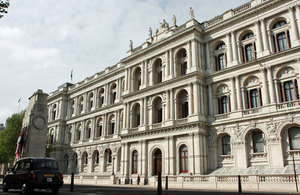 This follows the Foreign Secretary's announcement on 27 July that the UK recognises and is dealing with the National Transitional Council as the sole governmental authority in Libya. As part of this decision, the Libyan Charge d'Affaires and other diplomats from the Qadhafi regime have been expelled from the UK.
Commenting on the re-opening he said:
The National Transitional Council is the sole legitimate governmental authority in Libya. It is therefore right that their representatives are now staffing the Libyan Embassy. Doing so marks very clearly the fundamental change that is taking place in Libya. People from across the country have decided to abandon Qadhafi. His actions have left him without legitimacy, and he is trying to cling to power with increasing desperation. Through its consistent actions the National Transitional Council has shown its commitment to a more open and democratic Libya that reflects the aspirations of the Libyan people. We will work with them to achieve this goal.
Published 9 August 2011