Foreign Secretary welcomes ratification of New START treaty
Commenting on the ratification of the New START treaty between the United States and Russia, Foreign Secretary William Hague said: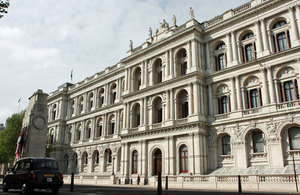 I welcome the ratification of the New START treaty by the US Senate on 22nd December 2010. The United States and Russia together have 90 percent of the world's nuclear arsenals and this treaty will contribute to increased trust and security for all.
It is also an important step towards our long-term goal of a world without nuclear weapons. We now look forward to ratification of the treaty by Russia and its subsequent entry into force.
The international community must now take advantage of this step to bring fresh momentum to implementation of all commitments under the Nuclear Non-Proliferation Treaty (NPT), specifically the action plans agreed at this year's successful NPT Review Conference. We look forward to working on this with the United States, Russia, and our other partners in the international community.
Published 23 December 2010