Foreign Secretary welcomes proposal to reduce tariffs on Pakistan imports
The European Commission has adopted a proposal for unilateral suspension of import duties on a number of important export items from Pakistan into the EU.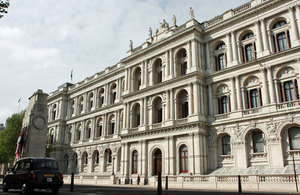 The proposal aims to aid Pakistan's economic recovery after the devastating floods earlier this year.
Speaking after the European Commission adopted the proposal the Foreign Secretary said:
"We welcome the Commission's proposal to reduce tariffs immediately on Pakistani imports into the EU. Aid brings short term relief but trade is the foundation of prosperity and lasting progress. British Ministers and officials played a leading role in bringing this action about. We will continue to work towardsadditional and more ambitious measures including granting Pakistan early access to the GSP+ scheme.
We call upon the European Council and Parliament to act equally swifty in approving this proposal to bring immediate benefits to the people of Pakistan. For Pakistan to recover from the floods and address its many challenges it needs the active support of its friends. Britain will remain one of the staunchest of champions of Pakistan's democratic future."
The proposed preferences would liberalise 75 tariff lines on imports from Pakistan accounting for 27% of Pakistan's current imports to the EU. This would yield an increase in EU imports from Pakistan of about €100 million.
Published 8 October 2010