Foreign Secretary welcomes progress in talks between Sudan and South Sudan
Foreign Secretary William Hague welcomed agreements between Sudan and South Sudan and called on both countries to redouble their efforts to resolve all remaining areas of difference.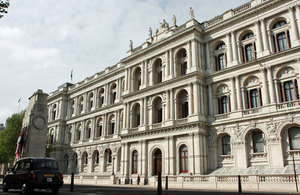 He said:
"I welcome the agreement between Sudan and South Sudan on financial arrangements for the export of oil from South Sudan. This breakthrough will be an important boost to the economies of both countries, and I commend the spirit of compromise both governments have shown.
"While I am also encouraged by progress in agreeing humanitarian access to those affected by conflict in Southern Kordofan and Blue Nile, it is disappointing that Sudan and South Sudan were unable to reach a comprehensive agreement by the UN Security Council deadline of 2 August. The African Union talks have been led tirelessly by former Presidents Mbeki, Buyoya and Abubakar, and I assure them of the UK's continued support in their mediation.
"I now call on the two governments to redouble their efforts to resolve all remaining areas of difference at the forthcoming Presidential summit, so the people of Sudan and South Sudan can enjoy the benefits of peaceful cooperation in the future."
Published 4 August 2012