Press release
Foreign Secretary welcomes Presidential elections in Algeria
Foreign Secretary William Hague welcomes peaceful vote and congratulates the winner of Presidential elections in Algeria.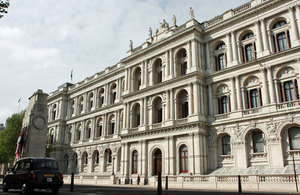 Following the result of the elections in Algeria, the Foreign Secretary said:
I congratulate the Algerian people on their elections and President Bouteflika on the result. We welcome the peaceful and orderly vote, and the commitment of the Algerian authorities to an inclusive dialogue about future constitutional reforms in line with the wishes and aspirations of the Algerian people.
The UK government reiterates its firm commitment to building a strong and enduring partnership between the UK and Algeria across many areas, including security, prosperity, promotion of the English language and cultural and educational links.
Further information
Follow Foreign Office on Twitter, Facebook and Google+
Published 19 April 2014