Press release
Foreign Secretary welcomes New Zealand Prime Minister
Foreign Secretary William Hague welcomed New Zealand Prime Minister John Key to London on 18 September.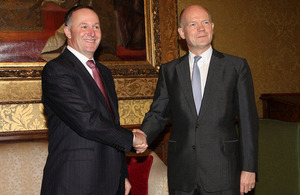 Mr Key is on an official Guest of Government visit to the United Kingdom, meeting the Prime Minister and other central government representatives as well as promoting UK-New Zealand trade.
During their meeting Mr Hague and Mr Key discussed the strong ties between the two countries and looked at ways to deepen these in the future, especially in areas of international security and commerce.
The Foreign Secretary said:
"It was a pleasure to see Prime Minister Key here today. New Zealand is one of our closest allies. We enjoy strong historical ties, an ever deepening trade relationship and partnerships across our educational and cultural institutions.
"During our meeting today, we discussed the many issues that unite us, from global security to human rights. As fellow members of the Commonwealth we focused on the opportunities and challenges presented by this year's Commonwealth Heads of Government meeting and agreed on the vital importance of promoting human rights in Sri Lanka.
"We also spoke about next week's UN General Assembly, where I will be hosting an event on my initiative to prevent sexual violence in conflict. I asked Mr Key for his support and thanked him for the contribution New Zealand has already made".
During his visit Mr Key will also lay a wreath at the Bomber Command Memorial in Green Park. The wreath will commemorate the New Zealand airmen that served in Bomber Command, as well as the servicemen and women that fell during the Second World War. Thousands lost their lives in the conflict, which decimated populations across Europe.
Further information
Follow the Foreign Secretary on Twitter @WilliamJHague
Follow the Foreign Office on Twitter @foreignoffice
Follow the Foreign Office on facebook and Google+
Published 18 September 2013