Foreign Secretary welcomes new round of EU sanctions against Syrian regime
Foreign Secretary William Hague welcomed additional sanctions on Syria, saying that President Assad is isolated internationally and things will never return to the way they were.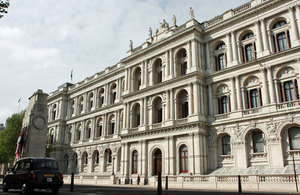 Speaking earlier, Foreign Secretary William Hague said:
"I strongly welcome the additional EU sanctions that were agreed today. They show again that we will not stand by while President Assad and his regime violently suppresses the legitimate demands of the Syrian people killing thousands and arbitrarily detaining many more. International pressure will increase until the regime heeds the calls for an immediate end to violence, the release of political prisoners and genuine change.
"This further round of sanctions includes a ban on new investment in the Syrian oil industry, an embargo on the export of Syrian banknotes to the Central Bank of Syria, and further sanctions against individuals and entities. Additional members of the Syrian Government have been added to the ban for their role in promoting and supporting the regime's actions. 56 individuals and 18 entities will now be subject to travel bans and asset freezes. Sanctions are not aimed at the Syrian people but at those responsible for the regime's violent repression, and those who support or benefit from the regime. These people must recognise the consequences of their actions and step away from the regime.
"Countries across the region have called for Assad to end the violence immediately. This week in New York I made clear to Security Council members that they too must increase the pressure on Syria. The UN Secretary General Ban Ki Moon has also made this clear. The UK will continue to push for a resolution as soon as possible. President Assad is isolated internationally and things will never return to the way they were. He should step aside now."
Published 23 September 2011