Foreign Secretary welcomes new EU sanctions on Syria
Foreign Secretary William Hague is in Brussels today for the Foreign Affairs Council meeting. Syria is high on the agenda as well as conclusions on Zimbabwe.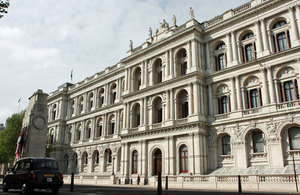 Commenting on the EU's agreement of new sanctions on Syria, the Foreign Secretary said:
"I welcome this 17th round of EU sanctions on Syria. Despite Russia and China's failure to support the Syrian people in the UN Security Council last week, the UK is continuing to lead efforts to intensify the pressure on this criminal regime. This latest package of sanctions shines a light on 26 more Syrian military and security officials who have been closely involved in the brutal repression of civilians. The EU has also frozen the assets of a further three entities closely linked to the Assad family to deprive the regime of funding that feeds the regime's killing machine.
"These new sanctions are a clear message to others close to the regime that if they continue to back Assad and commit acts of violence and torture against civilians, the international community will hold them accountable. We urge all members of the international community to implement similar sanctions on the Syrian regime and its close supporters to choke off the resources it needs to continue the killing. I therefore welcome the additional measures announced by members of the Friends of Syria Sanctions Working Group last week in Doha."
Following conclusions agreed on Zimbabwe the Foreign Secretary said:
"The decision reached today, proposed by the UK, represents an important step-change in the EU's approach to Zimbabwe. We have made clear that we would respond to a peaceful and credible referendum in Zimbabwe, due to take place in the Autumn, with a suspension of the majority of EU Restrictive Measures, but not including those on Mugabe. This approach will demonstrate to reformers across the political spectrum that the EU is serious about responding to concrete progress on the ground and reflects our confidence in the facilitation process being undertaken by President Zuma and the leaders of SADC. It also puts the onus on the Government of Zimbabwe to live up to their commitments. These decisions will be kept under constant review and if the situation deteriorates, we will of course not hesitate to respond appropriately."
Published 23 July 2012