Foreign Secretary welcomes new EU sanctions against Syrian regime
Foreign Secretary William Hague comments on new sanctions on the Syrian regime agreed in Brussels.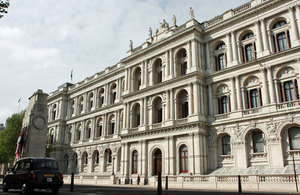 Following his meeting with his European colleagues at the Foreign Affairs Council in Brussels, Foreign Secretary William Hague said:
"I strongly welcome this substantial further package of EU sanctions, targeted on President Assad, his regime and those who support them. This tenth round of sanctions aims to increase pressure on the Syrian regime to stop the continuing violent repression of the Syrian people. EU sanctions stand alongside measures introduced by Turkey yesterday including the freezing of assets belonging to Assad and individuals in the regime, and the Arab League's decision to impose unprecedented sanctions. I welcome these moves which send a clear message that the Syrian regime's actions have left it isolated.
"EU sanctions are part of a broad international response to the horrific abuses perpetrated by a regime that has lost legitimacy. The UN Human Rights Council's Commission of Inquiry report, issued on 21 November, highlighted the systematic and wide ranging nature of these abuses including through compelling testimony from many of those who have suffered at the hands of the Syrian regime. The UK worked closely with international and regional partners to secure a third UN Human Rights Council special session on Syria, on Friday 2 December.
"The UK continues to support the Arab League's efforts to bring an immediate end to the violence and supports the work of Syrian oppositionists towards realising the aspirations of the Syrian people for freedom, dignity and a new political system."
Published 1 December 2011