News story
Foreign Secretary welcomes move to resume talks with Iran
William Hague calls on Iran to turn its declared willingness to negotiate on its nuclear programme into concrete action.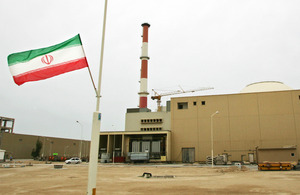 The EU High Representative Catherine Ashton and the five permanent members of the UN Security Council, with Germany, (the E3+3) will meet with Iran in Kazakhstan on 26 February to discuss the nuclear issue.
Commenting today, Foreign Secretary William Hague said:
"I welcome confirmation that talks between Iran and the E3+3 on Iran's nuclear programme will resume this month. The UK, as part of the E3+3, remains committed to finding a diplomatic solution to the nuclear issue with Iran, but the need to make progress is increasingly urgent. Iran continues to enrich uranium in contravention of UN Security Council resolutions and on a scale that has no plausible civilian explanation.
"We want to work with Iran, in the spirit of mutual respect, on the concrete steps needed to address the international community's serious concerns about its nuclear programme. We will approach the talks in Almaty, Kazakhstan, with an updated and credible offer for Iran. The onus is on Iran to respond seriously and turn its declared willingness to negotiate into concrete action."
Further information
Read more about our policy on leading the international effort to resolve concerns about Iran's nuclear programme
Published 5 February 2013