Press release
Foreign Secretary welcomes Mexican Foreign Minister to the UK
The Foreign Secretary and Mexican Foreign Minister José Antonio Meade Kuribreña met during the State Visit of President Peña Nieto.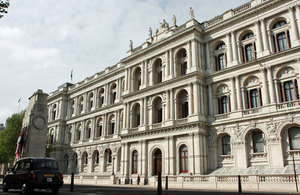 During their meeting they also signed a Joint Declaration, recognising the strength of the UK-Mexico relationship and setting out areas for future collaboration.
Philip Hammond said:
"Mexico has long been a close partner and friend for the UK in Latin America. This State Visit is an opportunity to deepen the relationship and to create opportunities for further cooperation between our countries.
"The Joint Declaration which we signed today affirms and renews our shared commitment to a strong future. We will create new connections between the UK and Mexico in culture, education, science and innovation and trade during the 2015 Dual Year of the UK in Mexico and Mexico in the UK.
"We share a great range of interests, and work together internationally on security, trade and climate change amongst other issues. During the visit we discussed some of the challenges our two countries face. In this context, we raised human rights concerns in Mexico, and emphasised the vital importance of tackling impunity."
As strong advocates of free trade and open economies, the joint declaration emphasises the commitment of the UK and Mexico to work closely together in the G20, UNFCCC, the Organisation for Economic Cooperation and Development and the World Trade Organisation.
It demonstrates how the UK and Mexico will collaborate on the Post-2015 Development Goals, peacekeeping, defence cooperation and international security. It outlines plans to share experience and expertise in tackling climate change, and to foster a transition towards low carbon economies. And it reiterates the commitment to tackle impunity and build respect for fundamental human rights, as well as improve government transparency.
It also outlines how the two countries will promote trade and investment, including through the annual High Level Economic Talks and the Trade Task Force, to build stronger economies.
Further information
Foreign Minister Meade is in the UK for the State Visit of Mexican President Enrique Peña Nieto. This is the President's first full bilateral visit to the UK since taking office in December 2012, and has seen him undertake a range of engagements aimed at enhancing the UK's bilateral relationship with Mexico.

Read the UK-Mexico Joint Declaration (MS Word Document, 31.1KB)
Published 4 March 2015
Last updated 4 March 2015
+ show all updates
Added translation
First published.