Foreign Secretary welcomes latest stage of transition in Afghanistan
Foreign Secretary William Hague said today's announcement marked another significant development in the transition process from international to Afghan security lead.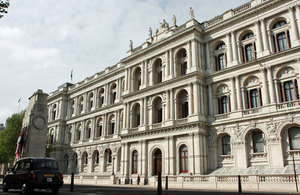 Following Afghanistan's President Karzai announcement today that Afghanistan's own forces will take lead responsibility for security in a further 122 areas across the country, including Nahr-e-Saraj district in Helmand Province where British forces operate, the Foreign Secretary said:
"Today marks another significant development in the transition process from international to Afghan security lead that will cover about 75 percent of the Afghan population.
"The groundwork for transition, which has been laid over the last few years through ANSF training and work to improve governance and development in Afghanistan, is now coming into fruition. Transition is a carefully planned, joint endeavour. The sustained growth in the Afghan state and the Afghan National Security Forces' strength, capacity and capability is the driving force of transition.
"By the end of 2014 the ANSF will have full responsibility for security across Afghanistan. The UK and international community have a long term commitment to Afghanistan and we will continue to support the ANSF in several areas, particularly training, after 2014 although UK forces will no longer be in a combat role."
Across Afghanistan, today's announcement means that Afghan forces will soon have lead security responsibility in areas home to 75 percent of Afghanistan's population. By the middle of 2013 all of Afghanistan will have begun the transition process, which is on track to complete by the end of 2014 when our combat mission will end.
This latest announcement demonstrates continuing progress in the development of the Afghan National Security Forces (ANSF). Training the Afghans to manage security across the country is the focus of International Security Assistance Force (ISAF) troops. They are building up ANSF capability so that they can prevent Al Qaeda from operating freely in Afghanistan, where they would be a threat to us and to our allies around the world. This progress will allow British combat forces to draw down gradually.
Defence Secretary Philip Hammond, said:
"The last of the three districts in the UK's area of operations has now entered the transition process. This is testament to the increasing capability of the Afghan National Security Forces and to the impressive work of the British and allied troops who have trained and partnered them.
"Of course, Nahr-e-Saraj remains a challenging area and the ANSF, supported by British and international partners, will continue to face difficult and challenging days ahead. But we should not allow this to cloud the real and tangible progress that has been made, and which will now continue under an Afghan security lead.
"Transition does not mean a change to our plan for an end to the UK 's combat role by December 2014, and we remain committed to Afghanistan for the long term. I pay tribute to every Serviceman and woman who has played their part and the great things they have achieved in partnering their Afghan colleagues."
The ANSF are getting more capable by the day. They are already demonstrating their effectiveness by delivering security, with minimal ISAF support, in areas included in the first and second tranches of Transition that started in 2011. These areas included Lashkar Gah and Nad-e-Ali, where there has been no significant increase in either insurgent or criminal activity since the ANSF took on greater responsibility.
Secretary of State Statement for International Development Andrew Mitchell, said:
"The long term peace and prosperity of Afghanistan depends on strong and stable government. The beginning of transition for Nahr-e-Saraj is an encouraging step towards this goal and is demonstrative of just how far the Afghan state has progressed.
"Alongside our military partners, the UK is supporting the government of Afghanistan to deliver basic services and security as well as improving the economic prospects for its people. UK aid is strengthening Afghanistan's ability to tackle the insurgency and reducing the incentives to take up arms. No-where is the case clearer of why well spent overseas aid is in our national interest.
"Much has been achieved over the past ten years with 5.8 million children now in school, increased economic opportunity and better access to basic and antenatal healthcare. The next decade will be critical and the UK, with our international partners, will continue to support the Afghan Government to become a secure and stable state."
British troops have operated in Nahr-e-Saraj since 2006, working to clear the area of insurgent activity and intimidation while building and developing the capability of the Afghan National Army and Afghan National Police. The Afghans have increasingly led security operations over recent months, with British forces in support. This joint security effort has led to improvements in the security situation with some areas of Nahr-e Saraj seeing significant reductions in violent acts of up to 85% over the course of HERRICK 15 (Oct 11-Apr 12).
The sustained growth in the Afghan state and ANSF strength, capacity and capability is the driving force of transition, enabling first the transfer of security responsibility and subsequently the release of UK and ISAF forces. The inclusion of Lashkar Gah in tranche one, Nad-e-Ali in tranche two and Nahr-e-Saraj in tranche three reflects sustained and ongoing UK, ISAF and Afghan military and civilian achievement.
Published 13 May 2012