Foreign Secretary welcomes intensification of EU pressure on Syria
Another round of EU sanctions targets banking, military and state media entities.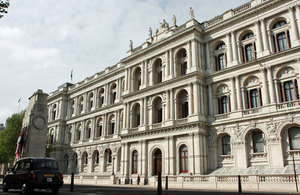 Speaking today in Luxembourg, the Foreign Secretary William Hague said:
"European Union member states have today taken new steps to increase the pressure of sanctions on the Assad regime. This sixteenth round of sanctions against banking, military and state media entities sends an unequivocal message that we will intensify the pressure until the Assad regime ends the killing and implements Annan's six-point plan in full.
"We have also decided to strengthen the arms embargo so that the insurance and re-insurance of arms shipments is explicitly prohibited.This robust action comes on the back of our rapid coordination with EU partners to prevent a Russian ship providing attack helicopters to those leading the repression in Syria.
"The UK will remain vigilant and continue to do all that we can to prevent the completely unjustified arming of a regime that is carrying out appalling crimes against its own people. I call on all countries, including those in the region, to implement their own tough measures so that Assad and his henchmen are in no doubt that they must chose a different path or face ever increasing isolation."
Published 26 June 2012