Foreign Secretary welcomes increased sanctions on Syrian regime
Foreign Secretary William Hague has welcomed the new round of EU sanctions against the Assad regime in Syria.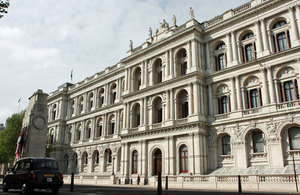 He said:
"Today further EU targeted sanctions on Syria come into force. The message is clear and unambiguous: those responsible for the repression will be singled out and held accountable.
"The appalling crackdown that we witnessed in Hama and other Syrian cities on 30 and 31 July only erode the regime's legitimacy and increase resentment. In the absence of an end to the senseless violence and a genuine process of political reform, we will continue to pursue further EU sanctions.
"Unless there is meaningful change in Syria and an end to the crackdown, President Assad and those around him will find themselves isolated internationally and discredited within Syria."
The Foreign Office advise against all travel to Syria, and British nationals in Syria should leave now by commercial means whilst these are still available.
Published 2 August 2011