Foreign Secretary welcomes extension of EU sanctions against Syrian regime
Speaking after EU Foreign Ministers agreed further sanctions, the Foreign Secretary William Hague said as long as violence continued, the UK would continue to increase pressure on the regime.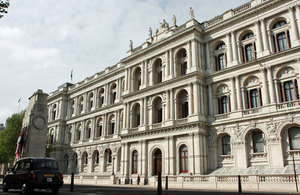 "I welcome the EU's agreement on a new round of sanctions on Syria. As long as the violence and repression continues we will continue to increase the pressure on the regime and its supporters. We will also press others to adopt and implement similar measures.
"The UK fully supports the work of the Joint UN and Arab League Special Envoy to resolve the crisis in Syria. The regime must implement rapidly and fully its commitments under two unanimous UN Security Council resolutions and Kofi Annan's plan. This plan remains the best hope of ending the violence, but it is not open-ended and we will not hesitate to return to the UN Security Council if it is not implemented swiftly and in full."
Published 14 May 2012