Foreign Secretary welcomes EU intention to impose sanctions against human rights violators in Iran
The Foreign Affairs Council of the EU has announced that the EU will seek swiftly to introduce sanctions against individuals responsible for human rights violations in Iran.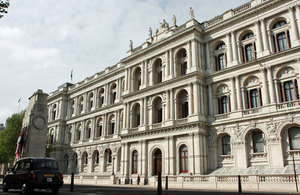 Foreign Secretary, William Hague said:
"I welcome this step that sends a clear message to the violators of human rights in Iran that the EU will not tolerate impunity for these abuses. These measures are designed to support the Iranian people in claiming the rights they have long been denied and to which they, like others in the region, aspire.
"This is an important and concrete part of the international response to the serious and deteriorating human rights situation. Iran has executed over 160 people this year, keeps more journalists in prison than any other country, has brutally suppressed recent protests arresting hundreds, and continues to keep key opposition leaders under house arrest and incommunicado. And all the while it claims to support freedom elsewhere in the region."
Published 21 March 2011