Foreign Secretary welcomes EU decision to sanction the Syrian President
Foreign Secretary William Hague welcomes the EU decision to sanction members of the Syrian regime.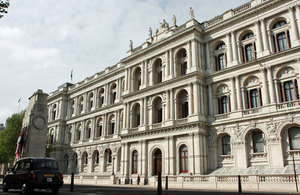 Speaking from the EU Foreign Ministers meeting in Brussels, the Foreign Secretary said:
"The Syrian regime has continued to repress its own people and violate human rights on a terrible scale. I condemn the repeated acts of violence and the mass detention of protestors. These must stop.
"The sanctions agreed today target those responsible, in particular President Assad. He must change course and immediately introduce meaningful reforms which meet the legitimate needs and aspirations of the Syrian people.
"The EU has sent a strong signal today that it will bring pressure to bear on those responsible and will suspend co-operation with Syria in a range of areas. These measures will only be reversed when there is a change of direction and accountability for recent events"
Published 23 May 2011