Foreign Secretary welcomes EU decision on sanctions against Syrian regime
Foreign Secretary William Hague: "No country should shut its eyes to the horrors we are witnessing in Syria".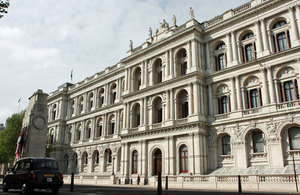 The Foreign Secretary said:
"I welcome the EU's decision today to adopt a 19th round of sanctions against the Syrian regime, to provide support to civil society inside Syria and to work with the international community to plan for a post-Assad Syria. The landmark agreement to work with civil society will help build essential capacity to enable a peaceful transition.
"It is utterly unacceptable that the regime continues to attack its own people with brutality and without remorse. This latest package of sanctions, which strikes at the heart of the regime, targets senior members of the Assad government and entities with links to the regime's chemical and biological weapons programme. These new sanctions give a clear warning to those close to the regime that if they back Assad and commit acts of violence and torture against civilians, the international community will hold them accountable.
"As the conflict escalates, it is ordinary Syrians who suffer: women and children are the victims of sexual abuse by the regime and its militia; over 300,000 refugees have been forced to flee to neighbouring countries to seek sanctuary; and over 2.5 million people are in need of urgent assistance.
"Our objective remains an end to the violence and a transition to a more democratic and stable Syria through a political solution. We urge all members of the international community to implement similar sanctions to choke off the resources the Assad regime needs to continue the killing and to continue to threaten regional stability. No country should shut its eyes to the horrors we are witnessing. History and the Syrian people will judge them harshly if they do."
Published 15 October 2012