Foreign Secretary welcomes Danish counterpart to London
The Foreign Secretary William Hague, met the Danish Foreign Minister Lene Espersen in London yesterday.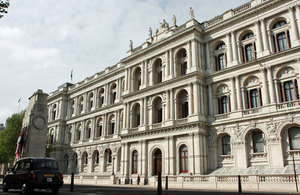 In their first round of formal talks, they focusses on Afghanistan and its region, and on EU issues. They confirmed the very wide measure of agreement existing between the two governments.
On Afghanistan, the Ministers confirmed their continuing commitment to close cooperation in Helmand, where troops from both countries work side by side, and to the internationally agreed gameplan leading to a full withdrawal of combat troops by 2014/15. They emphasised the strategic importance of help for Pakistan, including both aid in the short-term and enhanced trade access to the EU as a means of generating sustained longer term prosperity.
The ministers also discussed the challenges posed by instability in the Horn of Africa; the need for rigorous implementation of the latest international and EU sanctions on Iran; and ways of sustaining the Middle East Peace Process.
The Ministers reviewed objectives for the forthcoming September European Council, agreeing on the need in particular for clear messages on international trade and more focussed Strategic Partnerships with key countries.
Hague and Espersen 14 Sept 2010
Search the news archive
Published 15 September 2010