Foreign Secretary welcomes Charles Taylor guilty verdict
Foreign Secretary William Hague has spoken after news that the Special Court for Sierra Leone has found Charles Taylor guilty of war crimes in Sierra Leone.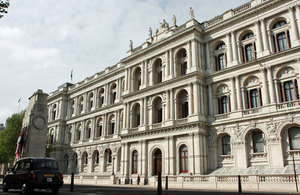 He said:
"I welcome the verdict reached by The Special Court for Sierra Leone in the trial of Charles Taylor, for the war crimes and crimes against humanity for which he was responsible during that country's bloody civil war. This landmark verdict demonstrates that those who have committed the most serious of crimes can and will be held to account for their actions; it demonstrates that the reach of international law is long and not time limited and it demonstrates that Heads of State cannot hide behind immunity. The verdict can only be a small comfort for the victims and relatives of those killed. But the Court's authoritative view of what occurred will play an important role in helping the people of Sierra Leone come to terms with the past and consolidate national reconciliation.
"I also want to congratulate all those who have worked tirelessly to bring Charles Taylor to justice and for the professional and independent manner in which the trial was conducted.
"The British government will continue to be a strong supporter of the work of the Special Court for Sierra Leone as it draws its proceedings to a close. To this end I firmly support the Court's efforts to secure further voluntary contributions for any forthcoming appeals process.
"But the work of the Special Court does not stop here. A small Residual Special Court needs to continue, in order to protect witnesses, manage the detention of those convicted, and protect the archives. With this in mind, I urge States to consider making voluntary contributions to fund the Residual Special Court for Sierra Leone, to ensure its legacy is protected."
Published 26 April 2012