Press release
Foreign Secretary welcomes arrival of aid to Syria
Philip Hammond reiterates urgent need for cessation of hostilities and political transition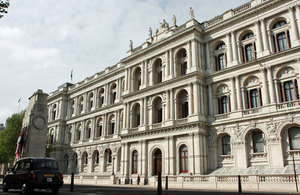 Foreign Secretary, Philip Hammond said:
I am relieved that desperately-needed aid convoys have now arrived in five besieged areas of Syria. Starvation of civilians as a method of combat is unacceptable. The international community and particularly Russia, which has unique influence, must put pressure on the Asad regime to lift sieges and grant full humanitarian access.

Aid convoys are a step towards implementing the agreement reached at last week's International Syria Support Group (ISSG) meeting in Munich, but there is much more to be done. Members also committed to achieving a cessation of hostilities and to facilitating rapid progress in negotiations aimed at political transition. I call on all parties to do everything in their power to follow through on those agreements.

The report from Médecins Sans Frontières reiterates the high human cost of the conflict. Responsibility for this increase in civilian casualties lies at the door of the Asad regime and its Russian supporters.
Further information
Published 18 February 2016