Press release
Foreign Secretary welcomes appointment of Saudi Arabia's Crown Prince
Boris Johnson sends congratulations to Mohammed bin Salman.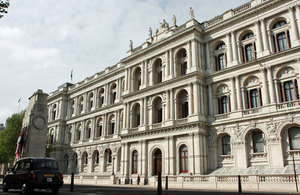 The Foreign Secretary Boris Johnson said:
I welcome the appointment of His Royal Highness Prince Mohammed bin Salman, whom I met during my visit to the region last year, as Crown Prince and Deputy Prime Minister of Saudi Arabia. The UK has a longstanding and close partnership with Saudi Arabia, which is enormously important for the security and prosperity of both our countries. Saudi Arabia is pressing ahead with ambitious social and economic reforms, and the UK stands ready to help in whatever way we can. We look forward to working closely with Prince Mohammed bin Salman and Saudi Arabia to promote long-term stability in the Middle East.
Further information
Follow the Foreign Secretary on Twitter: @BorisJohnson and Facebook.
Published 21 June 2017