Press release
Foreign Secretary welcomes announcement of new Tunisian Prime Minister
On the eve of the third anniversary of the Arab Spring, William Hague calls for further political, economic and security progress in Tunisia.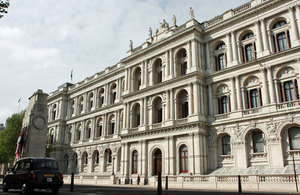 Following the announcement of Mr Mehdi Jomaa as Prime Minister of Tunisia, Foreign Secretary William Hague said:
I warmly welcome the announcement of Mr Mehdi Jomaa as Tunisia's new Head of Government. On the eve of the third anniversary of Mohammed Bouazizi's protest, the event that sparked the Arab Spring, this step demonstrates Tunisia's commitment to taking forward democratic transition. We hope all Tunisia's leaders will work together quickly to finalise a constitution and a date for elections in order to embed political freedoms, revive economic growth and underpin security.

On 17 December, Tunisia, and the world, will remember the events in Sidi Bouzid, which inspired change and calls for democracy and human dignity far beyond Tunisia's borders. Through our Arab Partnership programme, the EU, G8, and other international bodies, the UK remains committed to helping Tunisia build the democratic institutions and fundamental freedoms which we believe are the strongest foundations for long-term prosperity and security.
Further information
Arab Partnership Participation Fund
Follow the Foreign Secretary on twitter @WilliamJHague
Follow the Foreign Office on twitter @foreignoffice
Follow the Foreign Office on facebook and Google+
Published 16 December 2013