Press release
Foreign Secretary: We believe British nationals were on board MH17
The Foreign Secretary has sent condolences to those affected by the crash of flight MH17, confirming Britons believed on board.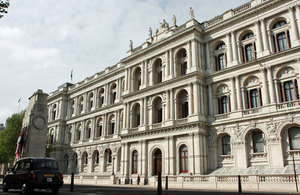 The Foreign Secretary Philip Hammond said:
I'm deeply shocked by this appalling incident and I send my heart-felt condolences to all those who may have lost family and friends. We're determined to get to the bottom of understanding what has happened here.

As yet, we do not have any definitive information about how this incident occurred and I don't want to speculate at this stage. We believe that there must be a UN-led international investigation of the facts. We are prepared to make Air Accident Investigation Branch assets and specialists available to aid such an investigation. We do believe that there were British nationals on board the flight. We are working through passenger data, cross-checking it and referencing it to establish exactly the numbers and identities of those British nationals, and as soon as we have further information we will be in contact with the families.

We don't have detailed information on numbers of British nationals yet. I don't want to speculate until we have completed our checks on all the passenger information. This must be resolved by an international investigation to establish the facts of what has happened. We believe the United Nations, particularly the United Nations civil aviation organisation, is the right body to lead that investigation and we will provide it all the support we can, including technical support through the Air Accident Investigation Branch.
British nationals who are concerned a friend or relative may be involved in the flight MH17 crash should contact the Foreign Office on 02070081500.
Further information
Follow the Foreign Office on twitter @foreignoffice
Follow the Foreign Office on facebook and Google+
Published 17 July 2014