Foreign Secretary: "We are witnessing the death throes of the Qadhafi regime"
Foreign Secretary William Hague has said that Qadhafi should tell his remaining forces to stand down.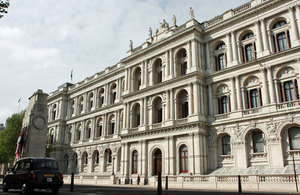 Speaking after chairing a meeting of the National Security Council on Libya the Foreign Secretary said:
"We are witnessing the death throes of the Qadhafi regime in Libya. We, of course don't know how long that will take. We have seen some scenes of jubilation, of celebration of the fall of the compound of the Qadhafi regime. There is a clear, fundamental, decisive rejection of that regime by the people of Libya and the regime has clearly lost control of most of the capital and much of the country.
I think it is time now for Colonel Qadhafi to stop issuing delusional statements and to recognise that that has happened, that control of the country is not going to return. He should be telling his dwindling and remaining forces now to stand down.
So I think that is what now needs to happen. We welcome the statements of the National Transitional Council who I think are approaching this absolutely in the right spirit and with the right statements pointing to an inclusive interim Government, a clear political process for the future in Libya. We welcome the fact that they have stated their intention to move some of their officials or ministers to Tripoli as soon as possible, we think it's very important for them to do that.
Britain's role will continue. We continue to be highly actively engaged in the NATO operations which must continue as long as there is a need to protect the civilian population of Libya. So our involvement in those operations continues as does, of course, our involvement in providing immediate humanitarian assistance such as the medical supplies we've supplied through the World Health Organisation, being ready to give other humanitarian assistance.
And diplomatically we are engaged at the United Nations and elsewhere to pave the way for the unfreezing of assets, the assets that have been frozen for five months but which ultimately belong to the Libyan people.
So there is a lot to do and there will continue to be a lot to do over the coming weeks and months. This will remain a difficult situation for some time and Britain will show the same patient strength in helping the people of Libya that we have shown over the last five months."
Published 24 August 2011