Foreign Secretary warns of escalation of violence in Syria
Foreign Secretary William Hague spoke today on Sky News about Syria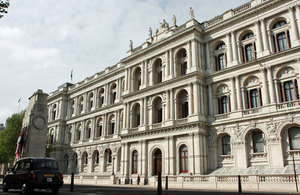 The Foreign Secretary said:
"There's been fighting in Aleppo over recent days, but it does seem that the Syrian Armed Forces have been building up to something bigger. Therefore we're likely, sadly, to see even more fighting, more bloodshed, and probably a bigger flow of refugees over the coming days.
"This is the situation we've warned about for a long time: that there would be a collapse in Syria, that there would be an even more deadly conflict if we did not bring enough pressure to bear on the Assad regime to implement the peace plan of Kofi Annan. That's what we've been arguing in the diplomatic world over recent weeks, but our Security Council resolution was vetoed. We won't give up on the diplomatic work, but given this situation we will step up of course our humanitarian assistance, but also our practical help to the opposition in Syria who are in such a desperate situation.
"The situation is going to need some change in the circumstances on the ground for Russia and China to change their position. I think it might only be a further collapse of the authority of the regime, bloodshed on an even greater scale which eventually brings Russia and China as well as all the rest of us to insist on a peaceful diplomatic solution. And, of course, the danger is that by that time people in Syria may have concluded that they gain more by fighting than by talking.
"It is a bleak time in Syria and in the absence of a peaceful solution we will step up our support for the opposition, continue to deliver humanitarian aid and continue to intensify our work to isolate the Assad regime, its finances and its members, to make life as difficult as possible for it to operate.
"Here is a regime that for seventeen months now has waged war against its own people, that has in many cases driven people to violence and conflict because it has not responded in any peaceful political way to the demand for a more democratic society in Syria. The prime responsibility for this situation lies with the regime, we're on the side of people who seek their freedom anywhere in the world."
Published 5 August 2012