Foreign Secretary visits Washington
"It is a great pleasure, as always, to be here in Washington with Secretary Clinton. The United States of America is our closest and our indispensable ally in foreign policy."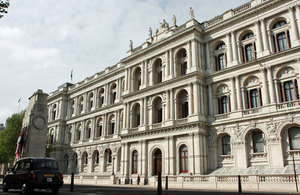 UK Foreign Secretary William Hague is in Washington today and met with his US counterpart, Secretary of State Hilary Clinton.
The Foreign Secretary and Secretary Clinton discussed a wide-range of critical issues, including the eurozone, the deeply concerning situation in Syria, Iran's nuclear programme, Afghanistan, and the Middle East.
"It is a great pleasure, as always, to be here in Washington with Secretary Clinton. The United States of America is our closest and our indispensable ally in foreign policy. And as ever, we've had a good meetings of minds, as we discussed this very broad range of challenges that we face," The Foreign Secretary said.
The Foreign Secretary also remarked on the momentous events of 2011 and the challenges that lie ahead.
"2012 is set to throw up challenges in foreign policy that could be more demanding and complex still, and we must be ready for those. Britain is determined to play its full part, alongside the United States, standing shoulder to shoulder and building on our shared values, our sense of common purpose, our mutual resolve."
When asked whether Britain's approach at the 8 December European Council concerned her, Secretary Clinton said;
"I have to say it does not. I think that the role that the UK has played in Europe will continue. And we of course welcome that."
"And our concern has not been over the position that the UK has taken, it's whether the decisions made by other members of the eurozone countries within the EU will work. And we want to encourage that. We've – we are very hopeful and supportive that this latest set of actions will send the right signals and have the results that are being sought."
The Foreign Secretary also announced he will travel to Burma next month. Secretary Clinton visited the country earlier this month.
In addition to his meeting with Secretary Clinton, the Foreign Secretary met members of the UK press, gave a wide-ranging interview to PBS NewsHour, and held a townhall meeting with Embassy staff.
Foreign Secretary William Hague on PBS NewsHour
Published 12 December 2011