Foreign Secretary visits Somalia
Foreign Secretary William Hague has visited Somalia's capital Mogadishu – the first visit by a British Foreign Secretary since 1992.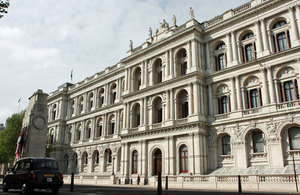 This historic visit followed political and security improvements in the region, which are offering the people of Somalia the opportunity to lay the foundations for greater long term stability.
Ahead of the London Conference on Somalia later this month, the Foreign Secretary met with the President, Prime Minister and the Mayor of Mogadishu to stress the importance we attach to the completion of political transition this summer. He told the leaders that while Somalia's problems cannot be resolved overnight, the UK hoped that the conference will act as a catalyst for a new, long term international and Somali effort.
The Foreign Secretary also met with members of Somali civil society to hear about their daily lives, to discuss the London Conference, and to outline that the UK knows that the people of Somalia must be at the heart of any new strategy for the country. The Foreign Secretary outlined that they deserve a better future after twenty years of unimaginable suffering; just as we all need a stable and peaceful Somalia that is capable of controlling threats within its borders.
The Foreign Secretary said:
"Today I am delighted to have made the first visit to Mogadishu by a British Foreign Secretary for over 19 years. This is a sign of Britain's commitment to the people and country of Somalia.
"As a further demonstration of our long-term commitment to Somalia, the UK's new Ambassador to Somalia, Matt Baugh has today presented his credentials to President Sheikh Sharrif.
"In three weeks' time the British Government will host an international conference on Somalia in London, attended by more than 40 countries and international organisations, which will seek to generate a more effective and concerted international approach outside Somalia that addresses the root causes of the conflict; and a new political process inside Somalia that meets the needs of all Somalis."
The Foreign Secretary also met with the Commander of the African Union Mission AMISOM to discuss the latest developments on the ground, and UK support for their mission over the coming months.
The London Conference on Somalia aims to agree practical steps to support a new political process, including assistance to Somalia's regions, funding for AMISOM, more effective arrangements to disrupt piracy and terrorism, increased humanitarian coordination, and stronger international leadership.
These steps will improve the situation in Somalia and will make a direct contribution to international security, including that of Britain. Large parts of Somalia are controlled by extremists and criminal gangs who use it as a base to launch terrorist attacks and kidnappings that have targeted British nationals.
The UK is actively seeking to re-open an Embassy in Mogadishu as soon as local circumstances permit.
Published 2 February 2012