Foreign Secretary visits Rome for Italy's Republic Day
Foreign Secretary William Hague is in Italy on Republic Day during the 150th Anniversary of the Unification of Italy.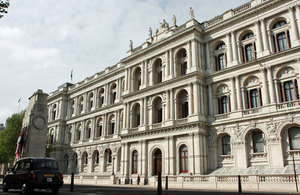 In 1861, Great Britain was the first country to recognise the newly unified Italian state as set out in a letter of 30 March 1861 from the then Foreign Secretary, John Russel to the Italian Special Envoy to London in which Queen Victoria is stated as accepting Marquis Vittorio Emanuele Tapparelli d'Azeglio as the "Envoy of Victor Emmanuel the II, King of Italy" to the United Kingdom.
President Napolitano has invited over 70 Heads of State and Government to attend this year's 150th anniversary celebrations of the unification of Italy. Representing the United Kingdom of Great Britain and Northern Ireland will be The Rt Honourable William Hague MP, Secretary of State for Foreign and Commonwealth Affairs.
Message from HM Elizabeth II to President Napolitano:
"On the occasion of your National Day, during this 150th Anniversary of the Unification of Italy, it gives me great pleasure in sending Your Excellency my warmest greetings, together with my best wishes for every success for the people of Italy in the coming year.
Elizabeth R"
Published 2 June 2011