Foreign Secretary visits Morocco
Foreign Secretary William Hague arrives in Morocco for his first official visit as Foreign Secretary.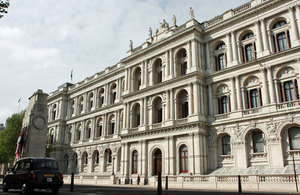 Speaking ahead of the visit, the Foreign Secretary said:
"It is a pleasure to visit Morocco and I look forward to my discussions with Foreign Minister Fassi Fihri.
"It is a time of optimism and change in the Morocco and in North Africa as a whole. Our Government is determined to expand Britain's diplomatic engagement with Morocco and its neighbours, and to do all we can to support peaceful economic and political reform across the region.
"The political changes in North Africa and the Middle East present hopes for the greatest advance in human freedom since the end of the Cold War. There are vast untapped opportunities for greater economic cooperation between Europe and the region, if governments show bold leadership and meet the aspirations of their people in a peaceful fashion. This will be part of my discussions in Morocco today.
"I welcome the progress that has been made in Morocco over recent months and look forward to meeting leaders of Moroccan political parties as they prepare for elections in November.
"Earlier this year I announced the creation of an Arab Partnership Initiative to help support the building blocks of more open societies and economies in partnership with peoples and governments of the region. I am delighted that today I will launch a series of Arab Partnership projects here in Morocco, aimed at supporting political participation and tackling corruption.
"I hope this will be the beginning of stronger co-operation between our countries in the years to come, to the benefit of all our citizens. It is time for a closer relationship between Britain and Morocco."
Published 17 October 2011