Foreign Secretary visits Middle East & North Africa
Foreign Secretary William Hague visited Tunisia and Jordan as part of his regional tour to support the UK's vital interests in the region and help develop more stable and democratic societies.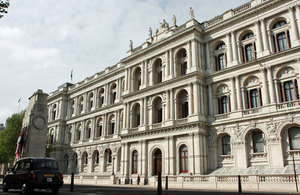 In Tunisia the Foreign Secretary met with key figures in the interim government including Prime Minister Mohanmed Ghannouchi and International Co-operation Minister Mohammed Jouini. He set out how the UK would work with Tunisian leaders and civil society to make the most of the current opportunity for change.
In a press conference the Foreign Secretary pledged the UK's support for the democratic aspirations of the people of Tunisia and their desire for greater economic development and a more open political system. He also announced £5 million of UK funding to support reform projects across the Middle East, including in Tunisia, in the areas of access to justice, freedom of expression, democratic institutions and civil society.
Speaking after the visit the Foreign Secretary said:
"It is a time of great opportunity for the Middle East. The courage, dignity and sacrifice of ordinary people in Tunisia in pursuit of universal freedoms that we take for granted has been inspiring.
Freedom of assembly, the rule of law, freedom of speech and free and fair elections - these are inalienable rights that are the building blocks of free and open societies. The UK stands ready to support those across the region who aspire to greater economic development and more open political systems. That is why I am today announcing the £5 million Arab Partnership Fund that will support reform across the Middle East.
A remarkable transition is underway in Tunisia. The government has made encouraging progress in responding to the aspirations of its people. It must now ensure that change is swift, comprehensive and irreversible. As the Tunisian people look to build a brighter future, they will find the UK a steady and committed friend."
The Foreign Secretary is also visiting Jordan where he will meet with His Majesty King Abdullah II to discuss developments in the region, including events in Egypt and Tunisia, and the need for urgent progress on the Middle East Peace Process.
He will also discuss ways to further strengthen the two countries' excellent bilateral relations, including how the UK can help support Jordan's efforts to open up the political space and further economic development.
This is the Foreign Secretary's first visit to Jordan since the formation of the Coalition Government in the UK.
The Foreign Secretary will answer your questions on the UK's role in the region through a twitter Q&A. You can send your questions from today using the hashtag #askFS and by including the Foreign Secretary's twitter name @WilliamJHague.
Published 8 February 2011