Foreign Secretary visits Lithuania
Foreign Secretary William Hague made his first bilateral visit to the Republic of Lithuania on 17-18 July.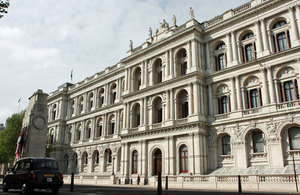 The Foreign Secretary delivered a key note speech to the Lithuanian Ambassadors Conference and held meetings with the Lithuanian Prime Minister, Foreign Minister and President.
The Foreign Secretary was keen to learn more about Lithuania's plans for their Presidency of the European Union in 2013. He commented that the visit had further strengthened the bilateral relationship between the two countries which are naturally aligned on many issues.
"Lithuania is a growth leader, an example of fiscal discipline and a close NATO ally. Both the UK and Lithuania want to see an ambitious and outward-looking Europe that takes measures to promote a true growth agenda. We agreed ways that we can work together in the run-up and during the Lithuanian Presidency of the EU."
The Foreign Secretary also welcomed the recent growth in bilateral trade and said he was looking forward to more investment opportunities for UK companies in Lithuania.
Published 18 July 2012