Foreign Secretary visits Libya
Foreign Secretary William Hague visited Libya on 16 July, his fourth visit to the country since the revolution.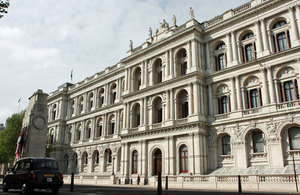 The Foreign Secretary met First Deputy Chairman of the National Transitional Council Mustafa al-Houni, interim Prime Minister Abdurrahim al-Kib, Deputy Foreign Minister Abdul Aziz and the leaders of political parties.
Speaking in Tripoli the Foreign Secretary said:
"I am pleased to return to Libya so soon after its landmark elections on 7 July when, for the first time in over 42 years, the Libyan people were able to vote freely. The successful conduct of the elections is a testament to the fortitude of the Libyan people and the efforts of the Libyan authorities.
"I wish to acknowledge in particular the tireless work and dedication of Chairman Jalil to the people of Libya throughout the revolution and following liberation, and to Prime Minister al-Kib for carefully guiding Libya through the past eight months to reach these historic elections.
"I look forward to the swift formation of the National Congress, appointment of a new Prime Minister and transition to a new Government. I hope that all will work together in a transparent and inclusive way to meet the ambitions of Libyans for a stable, prosperous country based on respect for fundamental freedoms, human rights and the rule of law.
"This will not be without challenges as the country seeks to address the legacy of over forty years of misrule under Qadhafi, and in all my meetings today I stressed the importance of the authorities working to address concerns over security and human rights, in particular the treatment of detainees. I also raised the importance of the UK and Libya continuing to work together to address the legacy of the Qadhafi regime, which has left many victims in both countries, as part of this I emphasised the importance of making progress on open UK police investigations into the murder of WPC Fletcher and the Lockerbie attack.
"The UK is proud of the assistance it provided to the Libyan people throughout the revolution and during the transition, and we will continue to stand by Libya as its people work to build a peaceful, stable, prosperous and democratic future."
Following his visit the Foreign Secretary will answer some questions on the UK's policy towards Libya on Facebook.
Published 17 July 2012